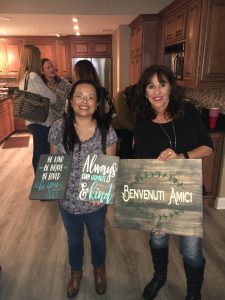 Women's Craft Day – Making Wooden Home Decor Signs
Saturday, September 15, 2018, 2-4 p.m.
Invite a friend and join us for an afternoon of fun and fellowship while we create lovely wooden signs for our homes. You do NOT need to have artistic talent to do this! You will be using a stencil to paint the design onto your wooden sign!
Size of sign is ~12″x 16″ (In between the two sizes pictured here). Some sample designs are pictured below.
Cost is $25 per person and
you MUST register and choose a design HERE by Sunday, September 2
so we can have your supplies and stencil prepared for you!
Please bring an apron or old shirt that you don't mind getting paint on!
Below: custom vinyl stencil, painting process, finished product, sample designs.